The World is our Playground: Hanging out with Jason C. Brown
After enjoying a great time in Boston, I packed up my SUV and headed west to the city of brotherly love, Philadelphia. There I met Kettlebell Athletics and The Strength Garden's Jason C. Brown. I had seen Jason present at the Perform Better Summit in Long Beach, California several years prior and knew that this was someone that I needed to meet. Jason, a purple belt in Jiujitsu incorporates a lot of natural movements in his training. Being a Jiujitsu practitioner myself, his presentation was right up my alley.

I met Jason at Precision JiuJitsu where I also met Rob Scheier, owner and operator. It felt great to shake the rust off, work on some technique and roll a little. Rob originally started
out training with Renzo Gracie in New York with the likes of Ricardo Almeida and many of Renzo's original core students. After a long period of driving an hour and a half back and forth to training, Rob decided to open a place of his own closer to home. He never had the intention of starting a school, he just wanted a place where he and his friends could come in, hit the mats and relax. As they say, there's nothing a good roll can't cure.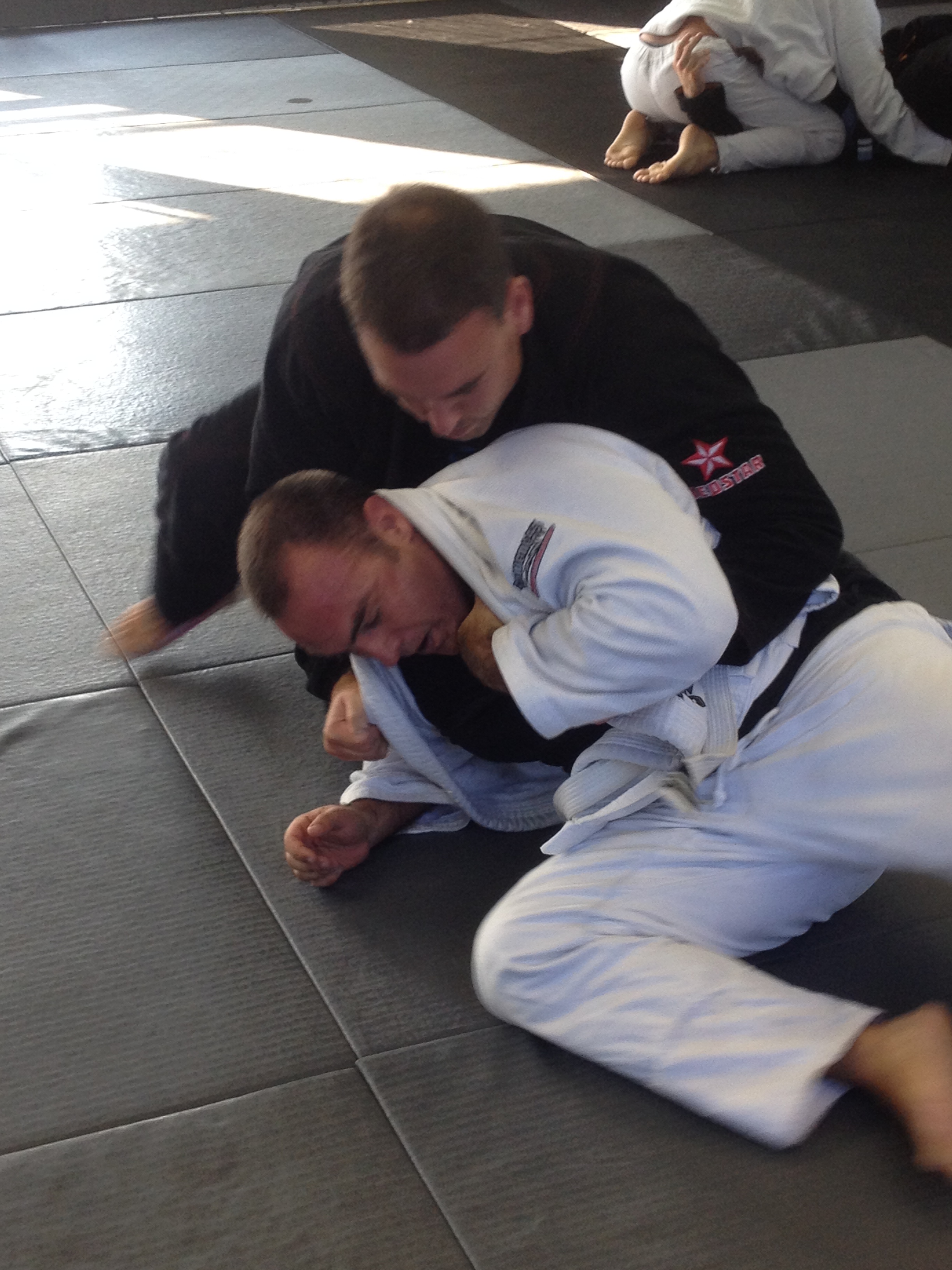 My roll went surprisingly great, I even caught Jason in a decent Mata Leon which he "claims" that he didn't let me have, although I'm still skeptical about it. Although it was satisfying to see that I hadn't lost everything that I've learned, the greatest satisfaction was being able to talk to Jason and Rob after class and pick their brains. We talked about so much; successes, challenges, motivations, the art of Jiujitsu and how it relates to other aspects of fitness.
I think if I were to narrow down the most interesting part of our conversation it would be our discussion of focusing on organic and simple movements. This not only relates to Jiujitsu, but in other aspects of fitness as well. As Jason said, "in order to be a good specialist, you need to be a good generalist first." All too often people forget the basics. Not only that, but there is so much information out there that you start to feel like you know nothing. Just like the fitness world, sometimes you don't even know where to begin. It's overwhelming!
People don't take the time to develop the skills that they already have. Everyone's different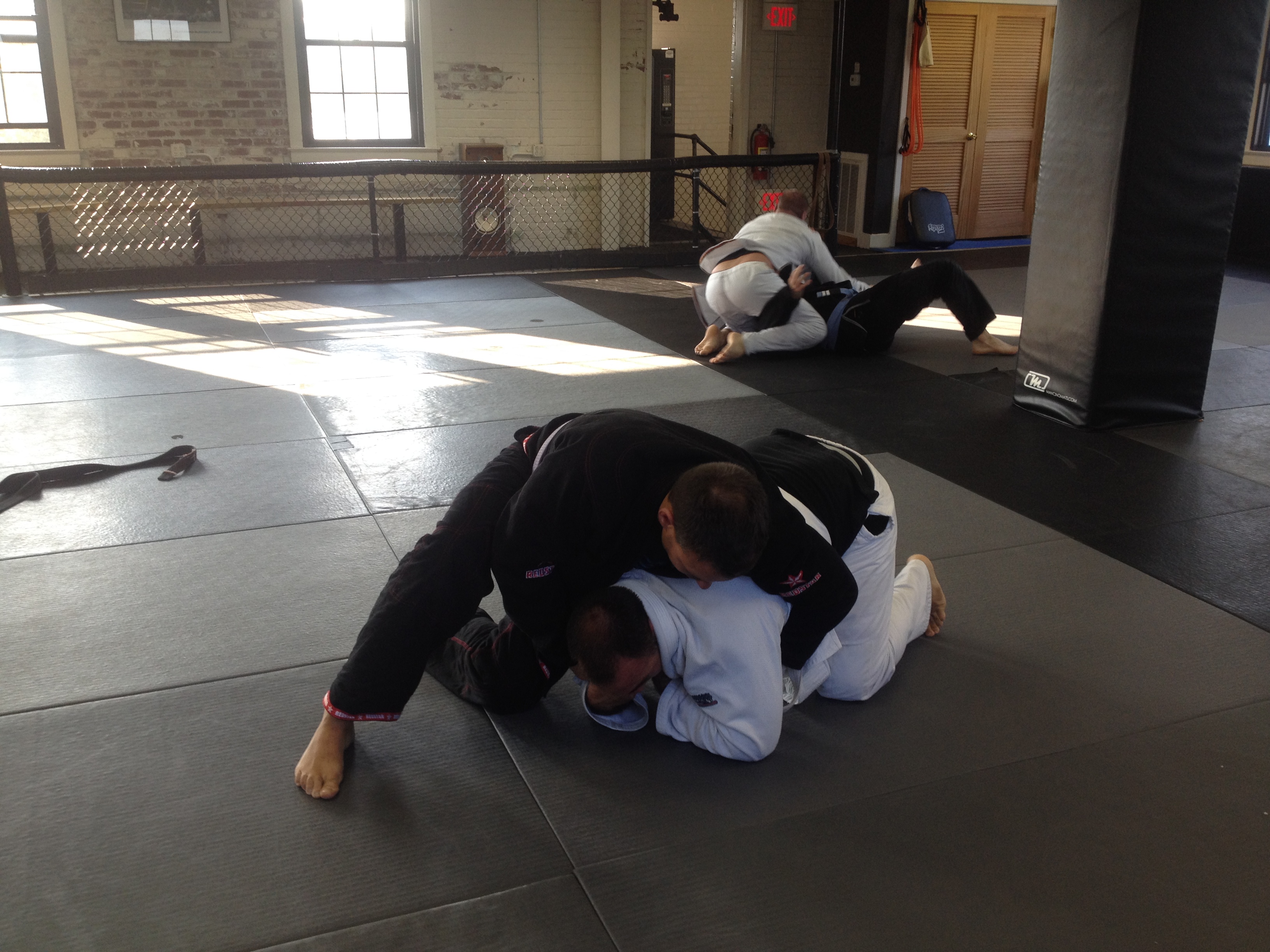 and if certain movements work for you, use them. Rob had said, "You can't force movement. It needs to be nature and organic. Let go of ego. You're either winning or learning. Renzo does it for the love of Jiujitsu and the passion not the glory or notoriety. You have to enjoy everything that you're doing." That's very true. Movement should be natural. What may work for someone who is 6' 4" may not work as well for me, who is 5'4". Sometimes movements need to be adapted to fit the individual doing it.
Jason brought up a great story about the first high jumper to change the sport, Dick Fosbury. When high jumpers used to jump they'd leap and dive over the bar. One day someone broke the mold, broke what was considered text book, and jumped back first, a movement that was named after him, the Fosbury Flop. He broke the record and changed the sport forever. He adapted and made it fit him. Similarly with Juijitsu, the more textbook and technical it becomes, the less effective it becomes because people are forgetting to adapt the style to themselves. They are forgetting to develop their own thought processes. All the greats have a unique way of grappling and training. Two people can play the same sport, but can be playing a completely different game. Even within the same positions style can change dramatically. You just have to have the confidence to explore and learn yourself. Trust yourself and your instincts.
Jason has an awesome way of seeing the world. He sees the world as our playground. Movement should be fun and playful. He's more concerned with helping others become
great at movement and reconnecting to the love of that movement rather than feeding the ego. He's developed a space that he calls The Strength Garden, think strength jungle gym. It's not your typical average Joe gym. You're not running on a treadmill or just throwing weights around. Those going to The Strength Garden get back to basics by using approaches such as natural gymnastics and bodyweight training, kettlebell exercises and martial-arts inspired movements. In the fast paced world of technology and grinding away in offices, getting back to strengthening ourselves in a natural way is a nice change of pace and a good habit to get our children back into as well.
Hmm…using the tools around you to become a better athlete? The world around you becoming your gym? Do I sense a Rocky training montage coming on?! Yep! When in Philly!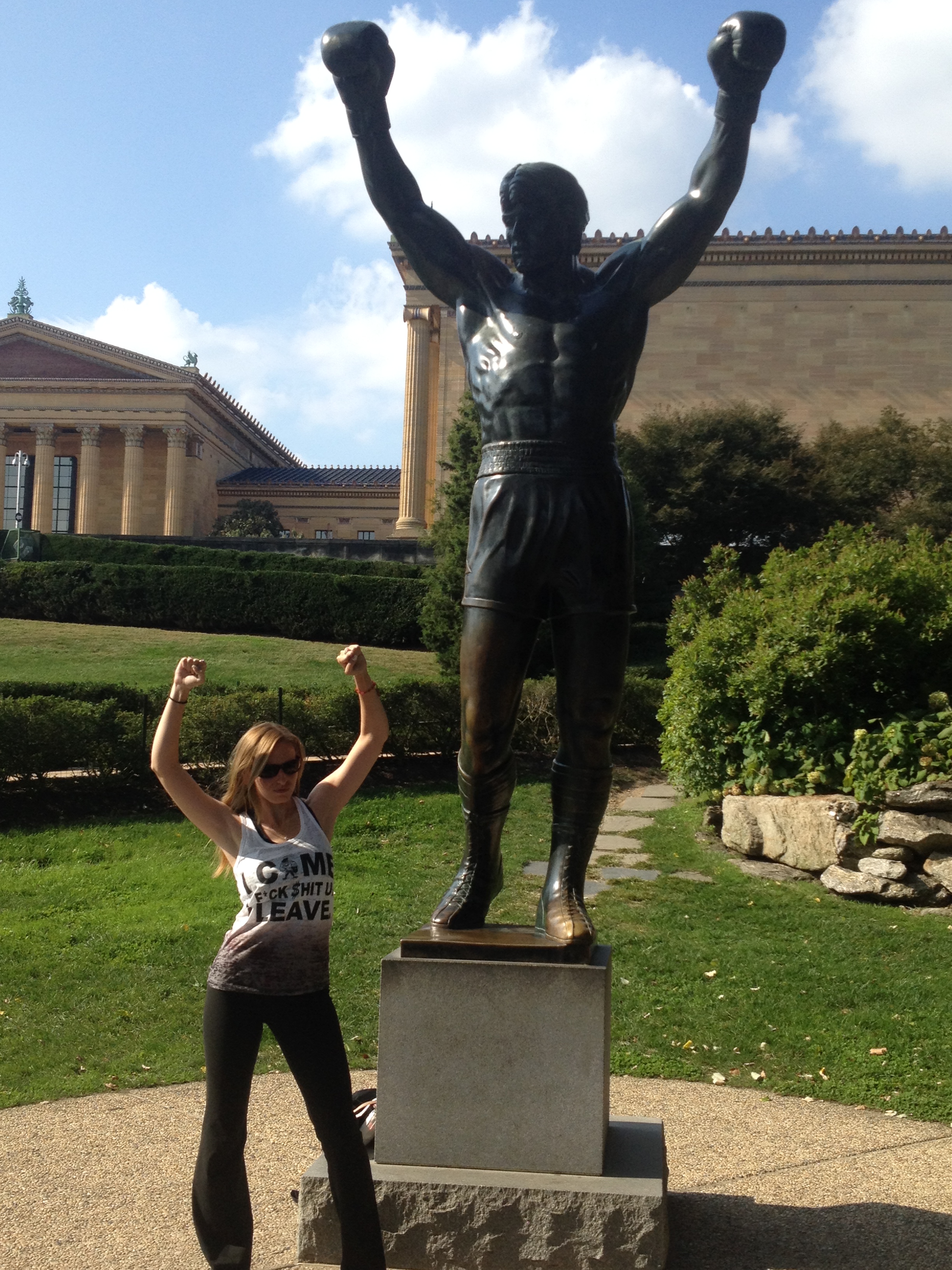 Jason's use of natural movement and getting back to nature inspired me to get out and go adventuring. After our meeting, I headed to downtown Philadelphia to explore the city. I went to the Philadelphia Museum of Art to do my best Rocky impersonation. I ran up the stairs humming "Gunna Fly Now" and pumped my arms in the air triumphantly at the top
despite the onlookers. I decided to walk around the museum for a little while and was stoked to see an entire collection of armor and weaponry which was by far my favorite exhibit. I continued on to look at paintings, sculptures, carvings and furniture to finish off
my day in Philadelphia. While walking back through the city to my car I found that there was run going on to support breast cancer awareness. The women were dressed in fun pink outfits, with tutus and bows and were smiling and having fun! Shouldn't fun be one of the biggest components of fitness? I think that's what Jason is trying to accomplish too.
I found Philadelphia to be an awesome city full of history, culture and awesome people! It's time to hit the road again and find some more people to motivate and inspire!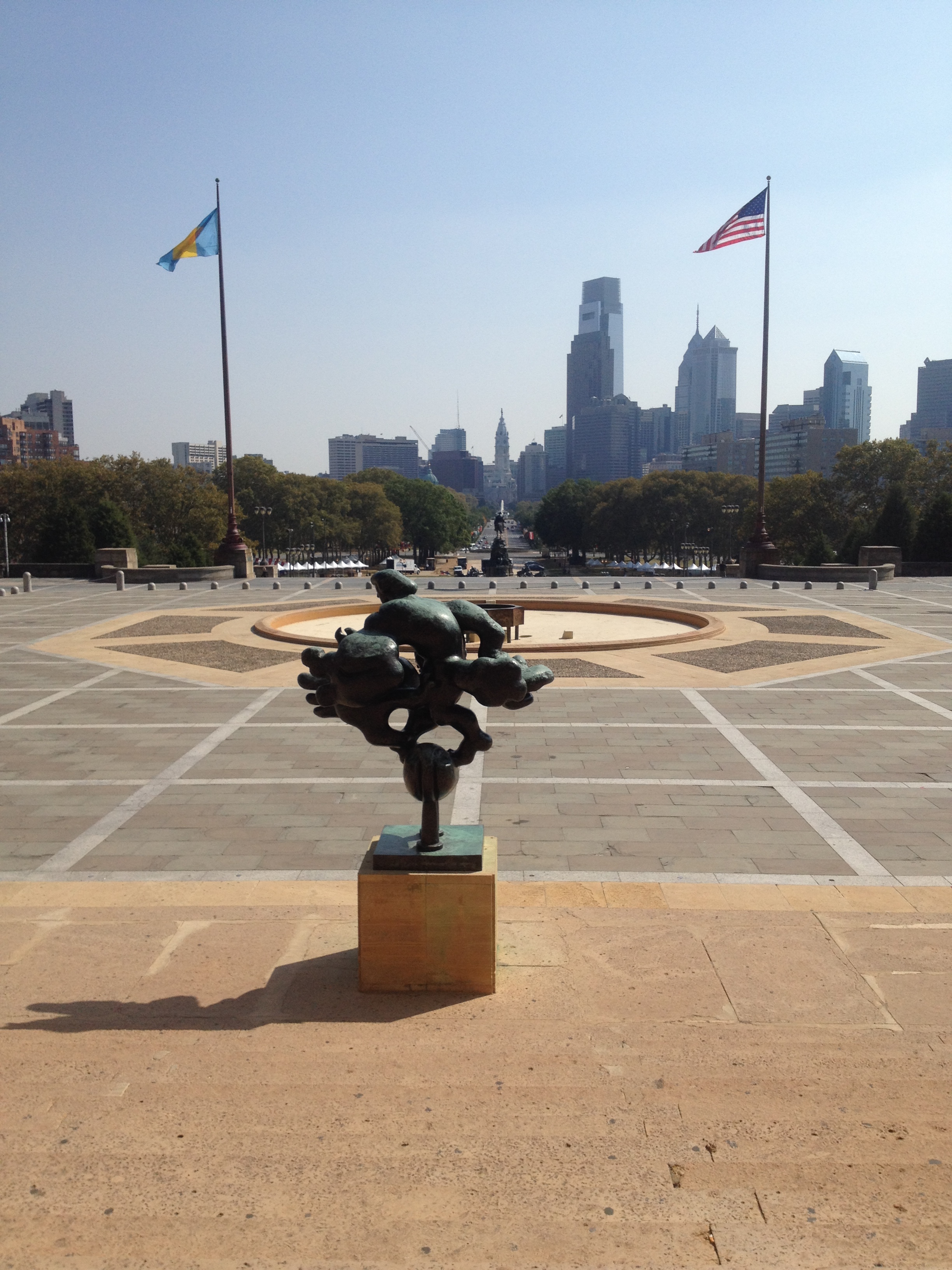 Strength Garden Academy

1518 Easton Road Abington PA 19001 Unit #7 http://www.jasoncbrown.tv/
Precision Jiu Jitsu
303 E Church Rd King of Prussia, PA 19406 http://www.precisionjj.com
---