Defending Yourself…and Your Skin!
And I'm back! So much has happened in the last 2 years and I can't wait to update everyone on my travels through Southeast Asia and all of the experiences that I've had. Before I take a look back at the past I'd love to tell you about a recent trip that I just took and a partnership with one of my favorite locally owned companies.
Last week I went on an amazing road trip which consisted of Cincinnati, Nashville, Ashville, Charlotte, and Southern Pines. While in Charlotte, NC with twitter friend turned real life friend, artist and BJJ brown belt, James-Michael Smith, I learned of a great program that he has going on called Refugee-Jitsu. Refugee-Jitsu is a partnership that he has with an organization called Project 658 that works with the international refugee community in Charlotte. Project 658 helps refugees get established and assimilated in the United States. James-Michael (JM) has offered to provide a free weekly Jiu-jitsu & self-defense class for kids of the refugee community.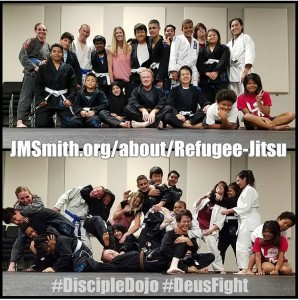 One of my first stops in Charlotte was to meet and work with the kids of Refugee-Jitsu. These kids are funny, intelligent and really enjoy learning. They come from all over the world including Afghanistan, Burma, Thailand, Nepal, Iraq, Mexico, the Ivory Coast, and Ethiopia. JM's goal is to be a positive light in the lives of these kids who are faced with the challenge of growing up in a new country where refugees are seen as a nuisance and many people are afraid of their presence.
While setting up and cleaning up after the class I heard JM make mention of needing to grab cleaning wipes for the mats. That's when my friend Guy Sako, owner of Defense Soap, came to mind. I have known Guy for about 4 years and I've always been impressed by his product and business ethic, not to mention I love the fact that he's based in Lakewood, Ohio. I knew that a trip to Cleveland when I got back to Ohio to see Guy was definitely going to be in my near future. On Wednesday, I hopped in my car to say hello.
Defense Soap is doing its best to live up to its mission statement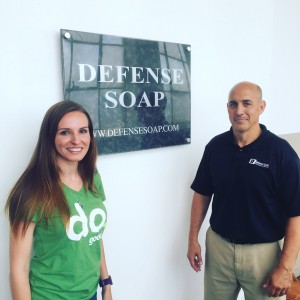 to provide safe products to the world of combat sports that will eliminate skin infections. I couldn't think of a better product for these kids to use. Actually, Guy started Defense Soap by accident. He never meant to start a company. Guy is a wrestler and wrestling coach and he was just trying to make a soap that was safe for his wrestler to use that was free of chemicals. Several batches later, he decided to market it so that everyone else could benefit from his research.
One of the most impressive things to me is how Guy balances his personal life with his business life. When I asked him about balance, he told me that it's an easy balance because he is a wrestler so that life coincides with his business life. What he didn't mention is how well he balances his family life with the business. He probably didn't mention this because the company and his family are basically one in the same. His beautiful wife Ashley handles a lot of the clerical work, I saw his older son Gus helping with packaging and his two little ones Max and Emma (ages 3 and 1) are basically like little Defense Soap mascots. They have a separate area in the warehouse for their playhouse and I got to walk around with Max as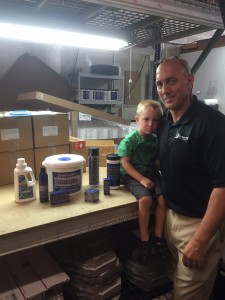 he rode his bike down the empty halls of the building. Ashley told me that they have been using Defense Soap on Max and Emma since birth in lieu of baby soap since all the ingredients are natural and safe.
Defense Soap is the only soap for combat athletes that actually has done research on their soap.  They were first to market and because of them other combat sports brands are starting to pop up.  Defense Soap is made in a FDA approved facility which is important because they can actually guarantee consistency.  They achieve this by a triple mill process, whereas competing brands pour their soap into molds which then goes through a cooling process where the ingredients settle causing inconsistency.  Consistency is crucial when delivering active ingredients and Defense Soaps bars are the same whether you get the 1st bar or the 75,000th bar in the batch.
As someone who had no intention of starting a business, Guy had to learn everything from the basics of how to copy and paste in an email to learning about FDA and EPA guidelines.  He had to build an e-commerce site, learn SEO and grass roots marketing.  He had to learn how to build a brand and protect it through trademark laws. He also had to learn how to operate on limited space, pulling the shipping skids in the hallway to help package his product. Not only that, but he had to stay true to his mission and stay on track of why he started Defense Soap in the first place. Now Defense Soap is booming! He's going to Hong Kong this week to talk about international distribution in China and they are looking to moving from their current 2,000 sq. ft. space to their very own space more than 4x the size.
I couldn't help but notice the similarities of starting a brand new company and moving to a brand new country. Perhaps combat sports aren't the only things that the kids of Refugee-Jitsu have in common with Guy. It can be scary to step out into the unknown with no real sense of what will happen or if you'll sink or float. The best that you can do is work hard, stay optimistic and be persistent in your quest for success.
Anyone who's read my blogs in the past is aware that I love quotes! I love hearing what words people hold dear to them. Guy had a couple which I thought really tied into both his story and in the lives of the children that I met. Guy's quotes come from his college coach and National Wrestling Hall of Famer, Dick Bonacci.  On rough days he would say, "The sun will come up tomorrow."  This has been a saying that has always spoken to me as well, as I've had a tendency to be irritatingly optimistic. It's such a simple and true statement though. Things may be hard, today may have been an awful day, but luckily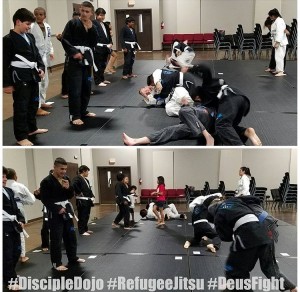 tomorrow is a new day, a new start, and another chance to turn it all around. Guy said that he once complained to his coach about losing a match which he should have won and he made the immature mistake of saying it wasn't fair that he lost when he worked so hard. His coach looked and him and said, "Whoever said life was fair."  While this quote is clearly less optimistic than the first, it is also equally true and we can all share in those exasperating moments when although we've worked hard and did nothing wrong, things still didn't work out the way we planned. Life happens whether it works out the way we want it to or not, but I think it's important to acknowledge that and keep moving forward. It's how we face these unfair situations which define us. In the case of the children, they had to abandon their homeland, their friends, the things they knew and loved, yet they still chose to learn and grow. In Guy's case, he chose to continue working hard and being an intricate part of the wrestling community and now he has a business that is becoming wildly successful!
Guy told me that he get tons of letters and testimonials on how Defense Soap has "helped people from all walks of life from cancer and scleroderma patients fighting to survive to wrestlers and fighters surviving to fight." He recently received a humbling handwritten letter from a daughter-in-law of one of his customers.  The customer was a 75 year old woman who suffered from reoccurring bouts of MRSA and was about to have both of her legs amputated.  As a last stitch effort they tried Defense Soap.  Long story short, the woman was able to keep both of her legs. Stories like that prove that he is indeed staying on track of his mission.
Defense Soap just teamed up with Muscle Pharm for an event called SUBMIT CANCER on Aug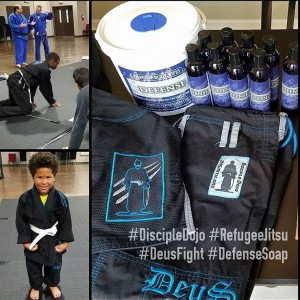 ust 13, 2016 in which 100% of the proceeds will go to Children's Hospital. After telling Guy about the Refugee-Jitsu program in Charlotte, Guy immediately offered to provide products to the kids so that protecting their skin would be one less of their worries. I'm outrageously honored to know people like Guy Sako and James-Michael Smith, who work so hard to improve the lives of other with their gifts.
Your mission, should you chose to accept it, is to think about what talents or gifts you have that you can share with others to make the world a better place then…take action! Help make tomorrow a little brighter!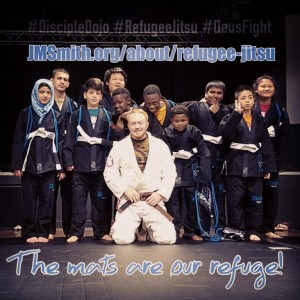 For more information on James-Michael Smith's Disciple Dojo and the Refugee-Jitsu Program: http://jmsmith.org/about/refugee-jitsu/
For more information about Defense Soap: http://www.defensesoap.com/

---