About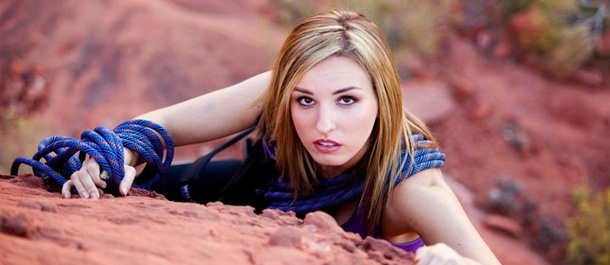 I'm on a mission to break stereotypes and inspire others to do the things they have always dreamed of doing. Rather than dwelling on all the reasons why you can't do something, try concentrating on the things that you CAN do to make your dreams come true.
I am an American College of Sports Medicine Certified Exercise Physiologist with a Bachelor's Degree in Exercise Science from Youngstown State University in Youngstown, Ohio. I would consider myself to be pretty unique. I started breaking stereotypes when I was in high school. I was a varsity cheerleader and wrestler, lettering in both in the same year. I am a martial artist and a beauty queen, holding a variety of awards and titles. I became involved with martial arts over 22 years ago, I currently hold a second degree Black Belt in American Kenpo and a blue belt in Brazilian Jiu-Jitsu. Being so passionate about martial arts and exercise science, I moved to Las Vegas, Nevada in 2008 to work with mixed martial artists. I lived there for 5 years and served as the Wellness Supervisor at one of the largest spas in the world.
In an effort to prove that anything is possible with hard work, I entered a world completely different from martial arts, the world of pageantry. I entered a Slovak Heritage Pageant in loving memory of my mother and grandmother. Not only did I win the title of Miss Czech Slovak Nevada, but also became the 1st Runner Up at the National pageant. I also took part in the Ms. US Globe Pageant to help raise money for a nonprofit organization that provides recovery, education and prevention programs to women and children who were the victims of abuse. I earned the title of Ms. Nevada Globe 2011 and placed in the top 15 in the US pageant. I was also awarded with the 2011 Ms. Globe Motivator of the Year Award. I continued on into the international pageant circuit and became Miss Slovakia USA Multiverse 2012. I competed in the Dominican Republic and placed in the Top 5 at the Miss Multiverse International Pageant. I was also awarded the title of Miss Social Media.
I proved that being a female, or being a martial arts, or being a beauty queen doesn't have to define you. You can be so many things! I attribute my current successes to the fact that I never let anyone else determine my future. I am continually growing and changing. Each day brings me to a better version of myself. I am currently on a journey to see as many places inside and outside of the United States as possible. I have an extreme sense of wanderlust and a love of adventure. I'm filling my passport (11 countries and counting) and blogging. Join me, won't you?
Recent Posts
Categories
Archives