DeFranco's Gym Exclusive!
As I watch Jason Foster, Matt Hansen and Tim Lutke kill it in Joe DeFranco's gym I felt super lucky to have the opportunity to just be there. Not only is Joe DeFranco one of the most well-known strength and conditioning coaches out there, but I also got exclusive, never before heard information from him! Want to know what it is?? Keep reading! This interview is so long I don't really even know if it can be considered a blog!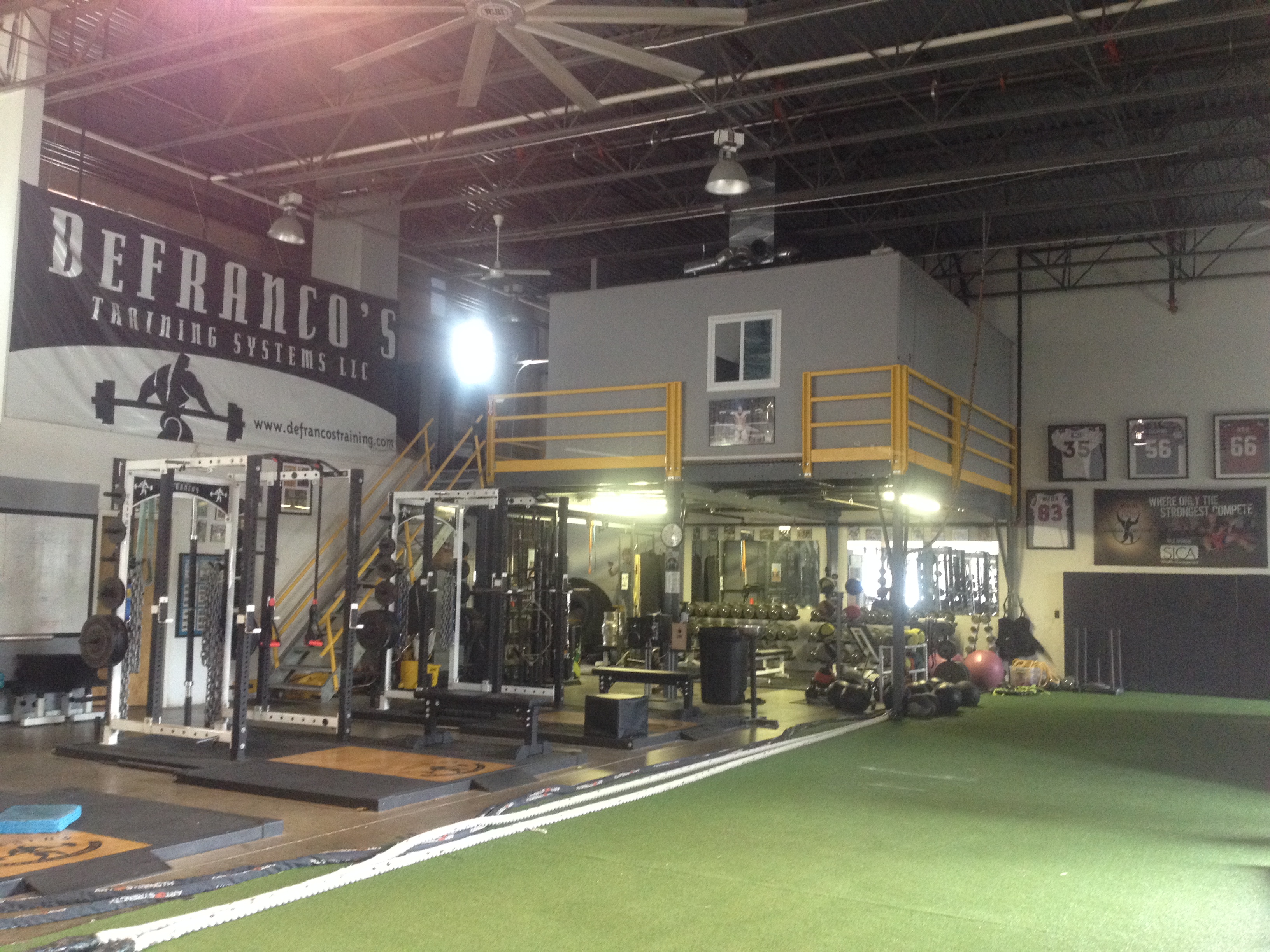 When I first got the message from Joe the day before my trip to Jersey that I could come to his gym to watch him train some professional football players and a fighter I knew I had to jump at the opportunity! Unbeknownst to him at the time, even if I wasn't invited, I probably would have still showed up. I would have created an opportunity! After the invite, I made sure to study previous interviews. I don't ever want to be the one who is unprepared and the last thing that I wanted to do was ask questions that Joe has gotten thousands of times. "What's your name and where are you from?" just aren't my style.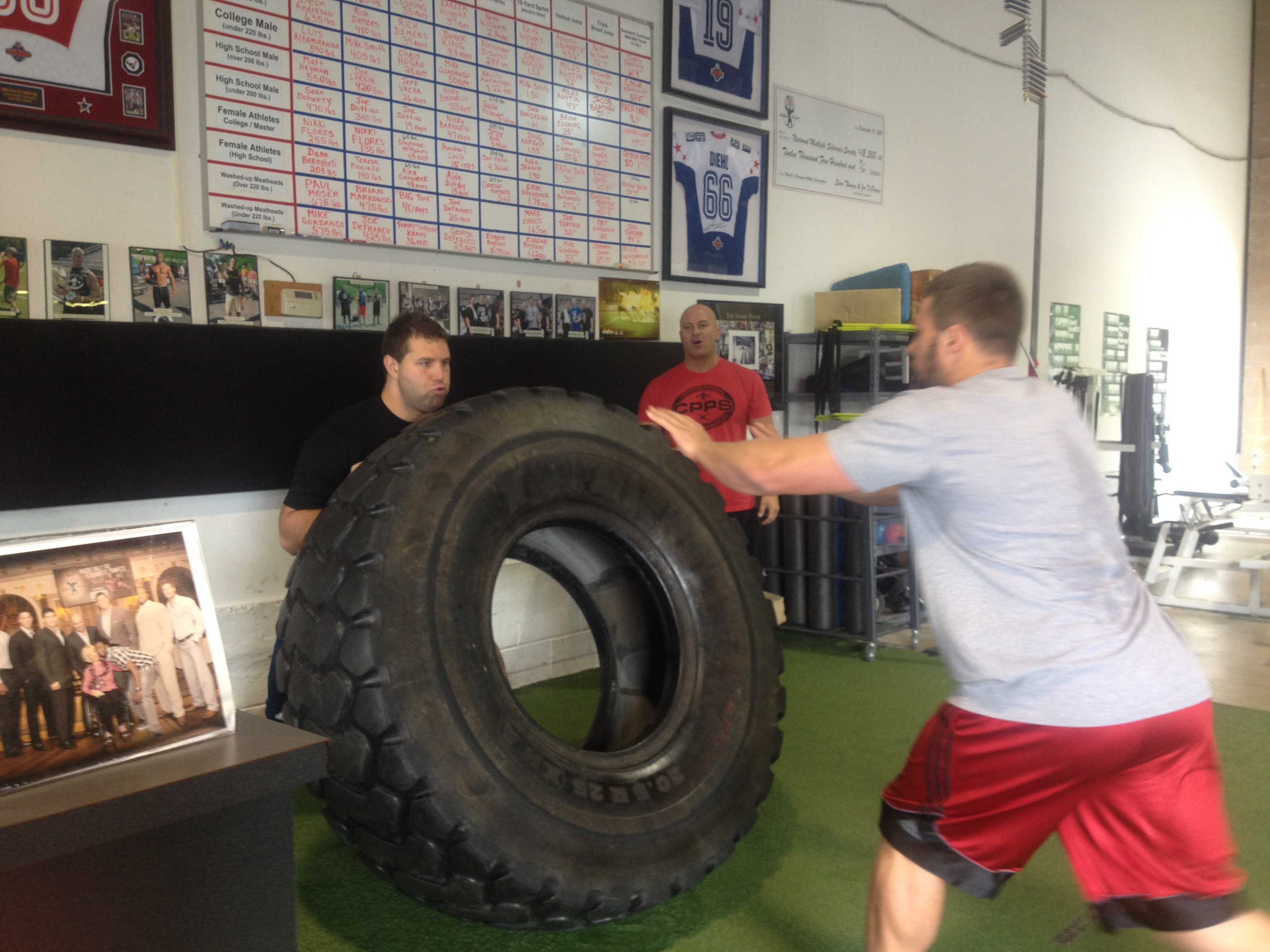 After I watched Joe run his athletes through a gambit of exercises from hurdle hops to tire battles, sled rows and modified farmers walks we finally had a chance to sit down and chat. I was thrilled that my research of previous interviews paid off and not only did I ask questions that Joe hasn't received before, but I also stumped him right out the gate! Keep in mind that the answers have been paraphrased to fit the two hour interview into this blog.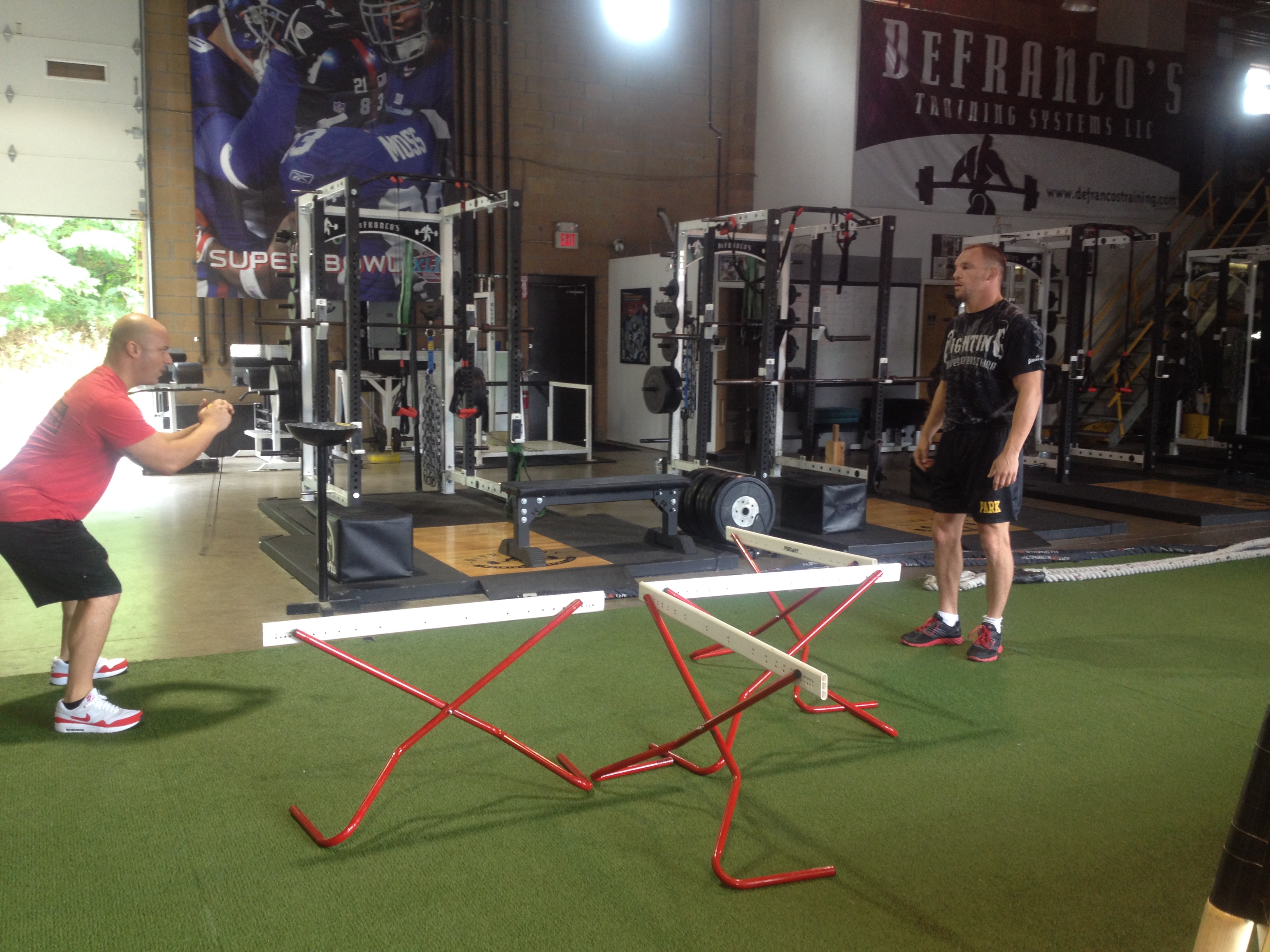 Kimberly: Joe, you've obviously been interviewed a lot right?
Joe DeFranco: Yes!
K: So then my question to you is, what question have you never been asked before that you have always wanted to be asked or that you can't believe you haven't been asked yet?
JD: Wow! That's a tough one to start out with! That's a good one. No one has ever asked me that before, so the answer to that isn't right there. Most people start off with a warm up. "What's your name? Where are you from?" Most people want to know how the gym got started. We're going to have to come back to that one, but that's a good one.
K: Wow! Threw you a curve ball! How much of a role do you play in the mindset of an athlete in addition to the strength and conditioning aspect? Obviously you play a huge role in S&C, but mindset is very important as well.
JD: I think the mindset is what sets us apart from other gyms. Five years ago there were 11 gyms with in a 10 minute drive from us, claiming to do the same thing as our gym, now there are only two. The training information is out there, there are a lot of gyms that can mimic what we do, but the reason that we are still standing is because of the relationship we have with our athletes and mental toughness that we instill in them. We have a family atmosphere here, we care about the athletes and their families, and they aren't just a number to us. There are no bad seeds here. The people that we take in really want to be here. I need to know that you are a persistent person and that you want to be here in order to be a part of the gym.
K: On that note, thanks for responding to my Facebook message.
JD: Haha, no problem. That was kind of luck of the draw too.
K: I gave a little presentation to an exercise science class at my old university YSU, and I told them I was coming to Jersey and if you didn't respond to my message I was going to show up anyways, because I create opportunities! Haha
JD: Haha! That's the attitude! One of my pet peeves is when people blame other people. You are responsible for yourself. I started in a storage closet of a gym. People told me I couldn't, but I created an opportunity. I hate when people say, "it must be nice". I train Triple H and Stephanie McMahon from the WWE and let me tell you a little something about work ethic. The work ethic of Triple H, Stephanie and Vince McMahon! Vince McMahon still goes to the office each and every day when I'm sure he doesn't "have" to. He leaves late at night, still putting in 16 hour days. He may drive a Bentley, but don't say "it must be nice", because if you had his work schedule for one day you'd probably quit. "It must be nice, it must be nice, it must be nice", the people who have these things have worked their asses off for what they have. Would you work a 16 hour day, put your kids to bed, train from 12 to 2 in the morning and then wake up at 6 to do it again, day in and day out? The people who say "it must be nice" probably wouldn't. And the people who say,  "If I had the money I'd open up my own gym too." They are usually full of shit.
I didn't have the money and I opened up my own make-shift gym. When I didn't have the money I just went outside to get it done. There's always a way around to make things happen. Everyone who is in this industry has at least been broke for 5-10 years. "I don't have the money" is a bullshit excuse. If you want something, you'll make it happen; if you don't want it, you'll make excuses! I don't make excuses.
The principals for being successful, no matter what industry are normally always the same. It's usually an insane work ethic, drive, passion, perseverance. I will not be outworked. Miles Austin, wasn't drafted to the NFL, small school, comes in here works his ass off, 2 years later he's making more money than any other wide receiver. Kareem Huggins, 1076 days of people saying you're knee is too messed up to play, you'll never have the range of motion to play. Belief, belief, faith, work, and when the call came he was ready. How many people would work for 1076 days with no guarantee, but come in with a smile everyday wanting to get better? The people who come here work hard.
This area is a blue collared area. We've had offers to move the gym to Arizona or Florida, but the exact reason why we are different is because at the end of the day working in the cold of New Jersey in the winter give our athletes a different kind of edge. We are who we are in a broken down industrial park. We are true to what got us here. Sorry, I got off a bit of a tangent there.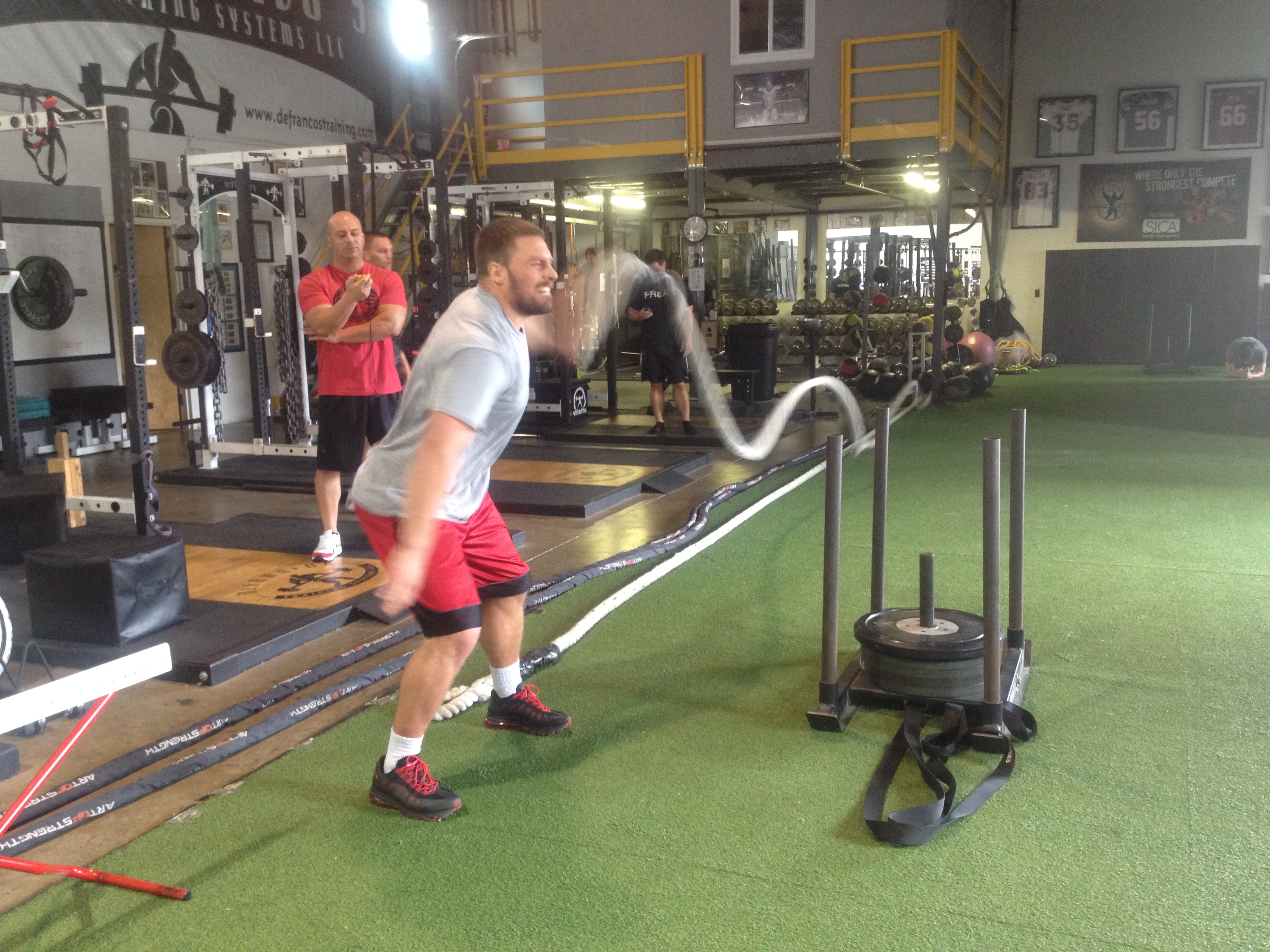 K: You somewhat lead nicely into my next question! What are 5 things that you wish you would have known when you were getting started?
JD: 1. Nothing will come easy.
2. It's hard to find true friends and people that you trust. Choose your friends and business associates wisely.
3. Your hard work isn't always going to be noticed. Success is a slow cooked thing. When I started my website I would take hours to post things on Ask Joe, but then I'd get only like 3 hits. I kept up with it though. Ten years down the road when I ask people how they heard about me, they say, "Oh, I looked on your website and you had about 10 years worth of knowledge that you gave away for free". Triple H is a prime example of that. When I asked how he heard about me he said that he had researched for about 6 months and my name had kept popping up. What set me apart was that I had things on my website from 10 years ago. I had mentioned people that I was training 10 years ago, such as Dave Diehl that was a rookie with the New York Giants and he's still training with me now as a 10 year veteran. There were names of people that I mentioned then that I am still training now. All of those Ask Joes that I had taken so much time on had a purpose even though at the time, I couldn't see it then. Most things in life don't come quickly.
4. Follow your passion. It's a long life to do something you hate; as cliché as this sounds, if you love what you do, you don't look at it as work.
5. This may not be the most politically correct statement, but I feel like there is more stock in what you learn outside of college then what you learn inside of college. I'm very proud of my degree don't get me wrong; I was an exercise science major, but real world knowledge trumps book knowledge. The things I learned in school were a good foundation, but I wish I would have put more stock in the real world and had gotten into the field earlier. You're ability to communicate is also as important as the knowledge you have. You learn that in the field. Different people require different motivation. You need to know different ways to get your knowledge across to them.
Probably a better number 5 then what I just talked about would be to share your knowledge with the world. If you share your information it comes back 10 fold. I used to not want to share the information that I had, but then I put it out there and not only did it help me pay my bills which was not the reason I did it, but it set me up as an expert in the field. I put products out there and people wanted to train with me because I was the person who wrote the book, not just the person who read the book.
K: So, you mentioned books a few times. If all the books that you have ever read were about to burst into flames and you have the opportunity to save three books, Joe DeFranco, what books to you save?? GO!
JD: Ok, Becoming a Supple Leopard by Kelly Starrett to keep my body healthy. Am I a dick if I keep one of my own??
K: Of course not!
JD: Ok, my speed book that I wrote with James Smith & Mike Guadango because it's a compilation 100 page practical book that even though I wrote it I still use it as a reference. AND……I can only save one more…… I gotta go with Supertraining, it's kind of encompasses everything. It's a very well rounded reference. So I have my speed, my strength and mobility. If I could save a business book it'd be The E-Myth.
K: What are your favorite quotes?
JD: "Success usually comes to those who are too busy to be looking for it." –Henry David Thoreau
"If you can't explain it simply, you don't know it well enough." –Albert Einstein
"The more you know the less you need to say." –Jim Rohn
"Show me someone who has done something worthwhile, and I'll show you someone who has overcome adversity." –Lou Holtz
"True intelligence is being able to apply your knowledge." -Vince McMahon
And I have to end with a Rocky quote, "You, me, or nobody is gonna hit as hard as life. But it ain't about how hard you hit. It's about how hard you can get hit and keep moving forward; how much you can take and keep moving forward." From having a tumor in my spine and not being able to be in the NFL, to opening a storage closet gym, to a garage gym, to a 5000 sq foot gym, now to training Triple H and NFL players from all 32 teams. I have just kept moving forward. I feel like I live that quote every day. My mom has MS, she's in a wheelchair, I see her keep moving forward. And by not quitting and moving forward I'm seeing success.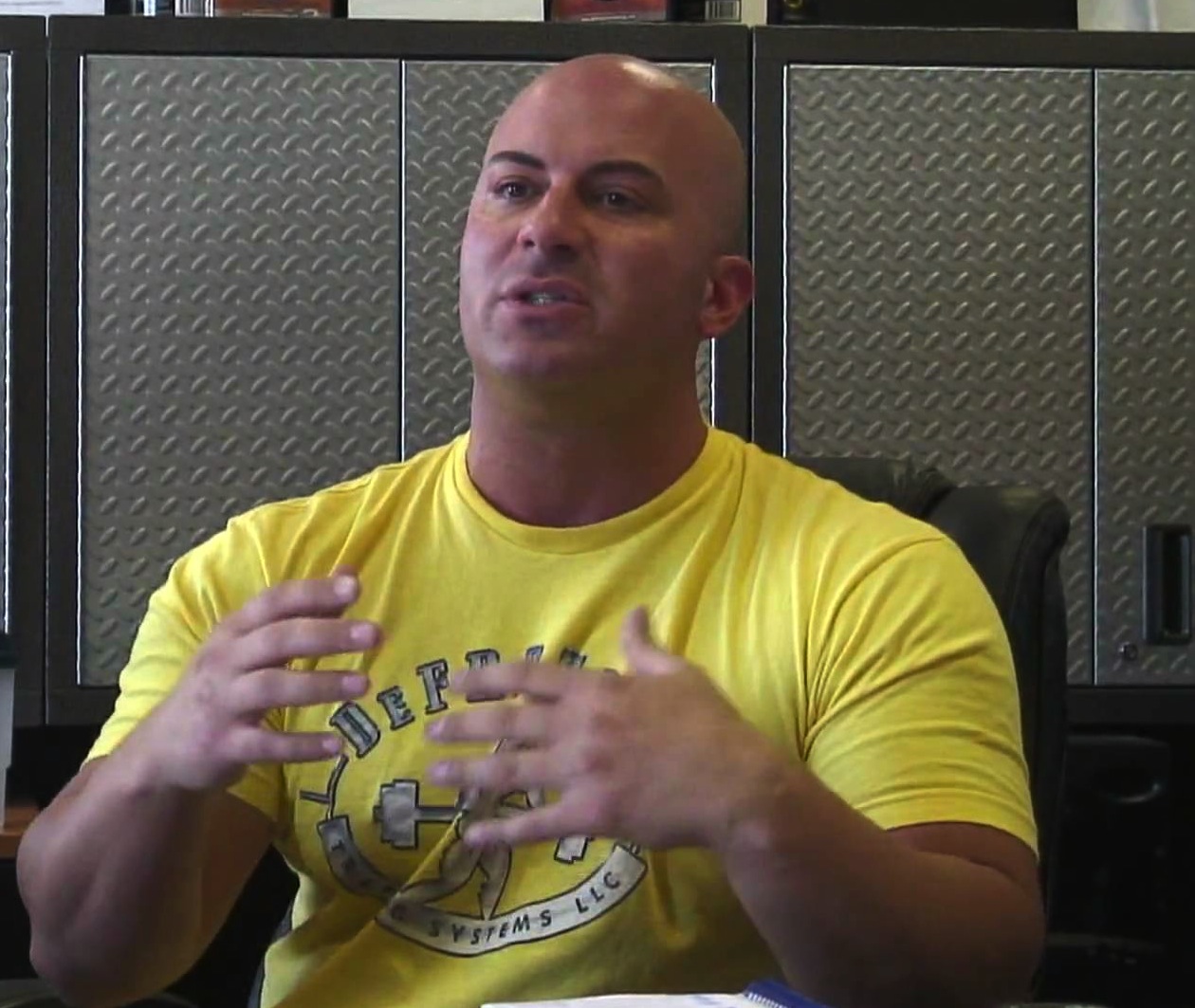 K: Good ones! Have you thought of something you haven't been asked yet or should we come back to it?
JD: Let's come back to it again! I'm pissed I don't have the answer!
K: Ok, one last question before that one then. What are you up to these days?
JD: These days, I have 2 year old twin girls and I'm trying to grow the business to where I can still be in the trenches, but I can spend more time with my family. I like to do one new product a year on a different aspect that I think the industry needs. The needs are usually based on what I get asked the most. I'd like to do more of our certifications, about 6 or 7 a year. We had 100 coaches from 9 different countries in the last year certify. I have been hired by the WWE to oversee their entire strength and conditioning program at the WWE Performance Center in Orlando, Florida. I will be working more closely with them as they legitimize themselves to the world as true athletes. The physical nature of the industry is just immense. It is entertainment, but I have been in that ring and when you get body slammed, it fucking hurts! These athletes wrestle 4-6 times a week on the road so we really need to help them take care of their bodies. We had the "Driven Beyond Strength" web documentaries out there, so there are a few networks who may want to pick it up as a reality show that follows the careers and training of the athlete and their drive; the human component behind the training. I'm also getting more and more involved with Nike as I'm one of the Elite trainers in their their Sparq Performance Network. I've also developed a business relationship with Aubrey Marcus, CEO of Onnit.com. They have an amazing line of clean, natural supplements, functional foods and fitness equipment. We've started performing some in-house experiments on their products and the results have been quite interesting thus far. So you'll be hearing more about that in the very near future. Oh yeah, James Smith and I have a new DVD & manual coming out in December entitled, "Barbell Training Essentials". It is jam-packed with information on developing strength and achieving technical mastery in the core barbell lifts. It just may be our best work yet. That's basically it…. Oh wait, I just thought of something!
K: That you haven't been asked yet?
JD: Yes! This is funny and everyone will be like holy shit! Are you ready for this?
K: Wait. Let me brace myself…. Ok…There it is! Go! Wait. Is this ground breaking? Is this an exclusive??
JD: Yes! This is the first time this is being addressed! My life is an open book. And even though I am a manly man, I've always been open about certain metrosexual tendencies I may have. Occasional trips to the tanning salon, shaving my arms and having to have my sneakers match my shirt, have all been discussed at one point or another. But, the one thing that has NEVER been addressed is how everyone thinks I get my eyebrows waxed! The truth is that I have never had my eyebrows waxed. These are the eyebrows I was born with!
K: OH MY GOD!!! I thought that within the first 30 seconds of meeting you!!!! They are frighteningly perfect!!! My first thought was that they must be waxed!
JD: I don't know how much you follow my gym.
K: Probably about as much as you follow my blog, haha!
JD: Right!! Haha!!! But I will have a YouTube video with about a million views. Always, if I'm in the video there's always a comment about my eyebrows!!! I swear to God on my children, I do not get my eyebrows waxed, threaded, plucked or anything!!! They are just naturally like this. I wish they WEREN'T like this, but they are, so I'm stuck with them! People are always saying it doesn't look good to be this manly man with this gym and have perfect eyebrows. It's like a distraction to people! My wife used to argue with me when we met. She'd say it's ok, you can tell me the truth, but now she knows that this is how they grow and she was like, wow you are right! You can break this news that I swore on my children, I do not wax my eyebrows!! I can have a sick video up online. Like in the first "Driven Beyond Strength" video, one of the comments was "Joe DeFranco, Best Eyebrows in the Business" and it got about 500 likes! Haha! I have just never addressed it!
K: This is so ground breaking!
JD: You can use it in the title if you want! I don't care! "Underground blogger gets never before information from Joe DeFranco!"
K: Haha! Awesome!! Well those are all the questions that I have prepared. How was that?
JD: That was awesome. You didn't fuck around. Every single question that you asked was one that I haven't gotten before.
Success!! I had a fantastic time at DeFranco's gym and got ground breaking information! For more information about DeFranco's Gym check them out at: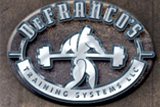 Garden State Industrial Park
750 Braen Ave., Building E
Wyckoff, NJ 07481
Call: 201.444.2260 | Email:  info@defrancostraining.com
Twitter: @Defrancosgym
---